Are you interested in expanding your knowledge of wine? Maybe you're new to the world of wine tasting and want to gain more knowledge? Perhaps you want to impress your friends with an astute palate? 
Tasting wine is at the heart of many social gatherings. Many people love to eat dinner with a glass of wine to accompany their meal. 
Come along with us today as we explore ways to build your palate and wine tasting skills. 
Related:The Etiquette of Wine Tasting
Tasting Wine
When starting a wine tasting journey, you will want to learn a few tips and take some wine tasting notes to make sure you get full enjoyment out of it.
When it comes to tasting wine, there's a lot of things to consider. Here are some of the steps you should take to work on refining your palate.
Common Types of Wine
If you've been to a wine tasting party you've probably come across the most popular types of wine. The most popular types of wine are Cabernet Sauvignon, Chardonnay, Merlot, and Pinot Noir.
Some people simply know red and white wine and don't get into anything further. But wine goes far beyond red and white or cabernet and merlot.. 
Always remember, when wine tasting and building a palate, there are no wrong answers. Everyone experiences wine a little bit differently and will pick up different smells and tastes. We will guide you through some of the more popular wine and tasting notes generally associated with them. 
Ready for a wine adventure? Check out Wine Country Travel for more details
White Wines
White wine is extremely versatile and can be made many different ways. Dry, off-dry, semi-sweet, sweet, and oaky are just a few of the styles or descriptors used for white wines. Some of the more popular white wines are:
Chardonnary – can be either oaked or un-oaked. Oaked Chardonnay is often described as having flavors of vanilla, butter or coconut. The un-oaked Chardonnay style generally produces citrus fruit flavors of lemon, apple, pear or pineapple. 

Sauvignon Blanc – usually made in the completely dry style, Sauvignon Blanc generally gives off flavors of lime, green apple, passion fruit or white peach. It also can have some notes of green pepper, spicy pepper, or grass. 

Pinot Grigio – Pinot Grigio is usually made in a dry style, but some cheaper supermarket mass produced Pinot Grigio can be on the sweeter side. Fruit flavors often associated with Pinot Grigio are lime, lemon, pear, nectarine or apple. The flavors that come through are influenced by the region in which the grapes are grown.

Riesling – Riesling can be made in many styles. Most are used to Riesling in the sweeter or semi-sweet style, but there are also bone dry Rieslings. It really depends on the level of sweetness you want in your Riesling. Flavors often associated with Riesling are nectarine, apricot, apple, and pear. You can also get some hints of honeycomb or lime peel. 
Red Wine
Most popular red wines are made in a dry style, but depending on the type of grape and where the grapes are grown, the flavor profiles can be significantly different. Some of the more popular red wines are:
Cabernet Sauvignon – Cabernet is the world's most popular red wine grape. It is a dry, full-bodied wine that lends itself to being very ageworthy. Common flavors found in Cabernet are blackberry, black currant, tobacco, pepper, chocolate, and baking spices. 

Merlot – Merlot is generally a bone-dry, medium bodied wine. The primary flavors often associated with Merlot are cherry, plum, chocolate, vanilla, and bay leaf. 

Pinot Noir – Pinot Noir is the world's most popular light-bodied red wine and known for its long, smooth finish. Flavors often associated with Pinot Noir are cherry, raspberry, allspice, vanilla, mushroom, and rose petal. 

Zinfandel – Zinfandel is often thought of as the spicy red wine. When you taste a good Zinfandel, you often get a candied fruitiness with a spicy and tobacco smoky finish. Flavors often associated with Zinfandel are jam, pepper, cherry, blueberry, cranberry, plum and licorice. 
Craving for a wine tasting tour? Check out Wine Country Travel 
Rosé
Rosé, often known as the "pink" wine is made from red wine grapes that only touch the wine for a short period of time. Thereby giving on the pink color to the wine. Rosé, since it comes from red wine grapes, can be made from any number of types of red grapes from Cabernet to Syrah. Rosé is also versatile in that it can be made bone-dry all the way to sweeter styles. Common tasting notes associate with Rosé are strawberry, honeydew melon, rose petal, zesty citrus, and rhubarb. 
Related: 10 Great Food Pairings With Wine
What Are You Looking For?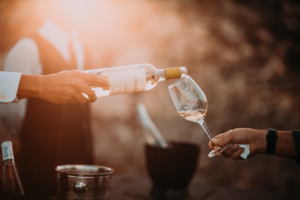 The look of wine can be almost as important as the smell or taste. You want to look for color and clarity. Tilt the glass and get a close look at the color at the rim and core of your wine glass. 
Is the color purple, garnet, brown, or ruby? Maybe it's lemon, gold, or lemon-green? When it comes to red wines a younger wine should be purple or ruby. For white wines, the younger varietals should have a hint of green at the rim.
You want the wine to have clarity. This means you don't want it cloudy or hazy looking. If your wine is cloudy or hazy then the could indicate issues with your wine before you even taste it.
Smell
When smelling wine there are three things to keep in mind. What are the primary aromas? What are the secondary aromas? And what are the tertiary aromas?
A wine's primary aromas are derivative from the grapes. Aromas such as floral notes, herbs, and fruits. 
Secondary aromas are from yeasts. They can be aromas such as nut husks, cheese rinds, and even stale beer.
Tertiary aromas are from the aging process. You'll get savory aromas like vanilla, autumn leaves, baking spices, old tobacco, and cured leather. You'll also find coconut or roasted nut aromas.
It's wise to swirl and smell the wine several times before tasting. Take notes so you can remember those thoughts and feelings the smell gave you. It's also wise to smell the wine and/or cork for cork taint. If the wine smells musty like a moldy basement or wet socks, you most likely don't want to drink it as the wine has been tainted. 
Taste and Texture
Taste is the reaction our tongues have to a sip of wine and as we swallow the wine. This will be the salty, sweet, sour or bitter notes we pick up in the wine. The texture is when your tongue touches the wine. Higher alcohol and ripe wines make for rich textured wines.
Length
Length of wine has a beginning, middle, and end. When swallowing wine pay attention to how long it stays with you until it's gone.
Think
When thinking on the wine ask yourself was it balanced? Was it acidic, alcoholic, or very tannic? Again, taking notes here can be very beneficial. Sometimes, after the wine sits in the glass a while and has time to open up or you take a few sips, you start picking up different notes and flavors. 
Questions to Ask
As you drink the wine, ask yourself these questions.
What's the aroma?

What's the texture?

Is it balanced?

What's the body-type?

What do I see?
Wine Country Travel can take you to an unforgettable journey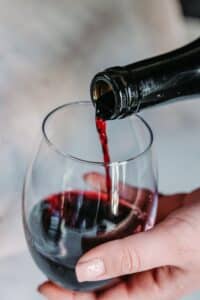 A Finished Bottle
Now you're armed and ready with some basic knowledge that will boost your wine tasting experience and help you to build your palate as you begin to experience different types of wine. Whether you travel to Napa and Sonoma for wine tasting, or stay home with friends, you'll enjoy an enhanced wine tasting journey from now on. Click here to get started.
Related: When Does Wine Expire? – Wine Country Travel