If you are planning a dinner party or a romantic meal, it's essential to know the perfect wine to pair with a particular dish. Wine can complement and bring out the flavors in each dish. If you match the wrong wine with the wrong dish, it can be a complete disaster for your taste buds and leave your guest(s) disappointed. After all, you put so much time and effort into your food, so why not put a little more energy into choosing the perfect wine to pair it with? Luckily, we've broken everything down for you. We're going to go over all of the rules, suggest tasty foods, and discuss some mistakes that people make when pairing wine and food. With our advice, you'll be able to create your own spectacular meal and wine pairing in your very own kitchen.
Food and wine pairing is a simple, yet complicated task. There is a lot to choose from, and it can be very overwhelming if you don't know what you are doing. Before we get into the nitty-gritty, let's jump into the three basic wine-pairing rules to live by:
Match the weight and texture. This means that a light dish will match very well with a light wine, and a rich dish will pair nicely with a rich wine.

The flavor intensity between the food and wine has to match. For example, a flavorful dish should match with a flavorful wine.

The flavors can either compliment or contrast with each other. There could be two rich flavors paired together or a sweet and salty pairing.
Now, let's dig deeper into the rules of wine and food pairing so we can have a better understanding as to why certain foods do very well with a particular type of wine.
Rules for Pairing Wine and Food

Rule 1
An excellent Rosé combines the acidity and light body of white wine with a fruity red. This is a great wine to serve with a wide variety of hors d' oeuvres.
Rule 2
White wine such as Sauvignon Blanc has a bright, citrus, and acidic flavor that compliments well with potato salads, smoked fish, and shellfish. It's safe to say that you can serve white wine with anything you can squeeze a lemon or lime onto.
Rules 3
Alcohol enhances the oils that make the spicy food hot. When you are served dishes like spicy curry chicken, then definitely go for wines that are low in alcohol such as German Riesling.
Rule 4
Tannin is a compound from red wine that accentuates the flavor of luxurious red meat. That is why Cabernet Sauvignon pairs beautifully well with duck legs, ribeye steak, and lamb meat.
Rule 5
If you are interested in using wine as an ingredient for sauce, then use white wine with light meat. This will bring out the flavor of any pork chop.
Rule 6
If you are craving earthy foods such as bison steaks or wild mushrooms, then an earthy wine would be the best choice. Pinot Noir is an excellent choice for any earthy meal.
Rule 7
When pairing desserts and dessert wine, it can be a little bit complicated. It's important not to choose one that is too sweet because it can overwhelm your taste buds. Instead, select a wine that has a light sweet flavor to complement the dessert. For example, a Moscato goes very well with a variety of desserts.
10 Delicious Food Pairings With Wine
Now that we touched base on the rules of pairing food and wine, let's dive into the top 10 best food pairings with wine.
Salmon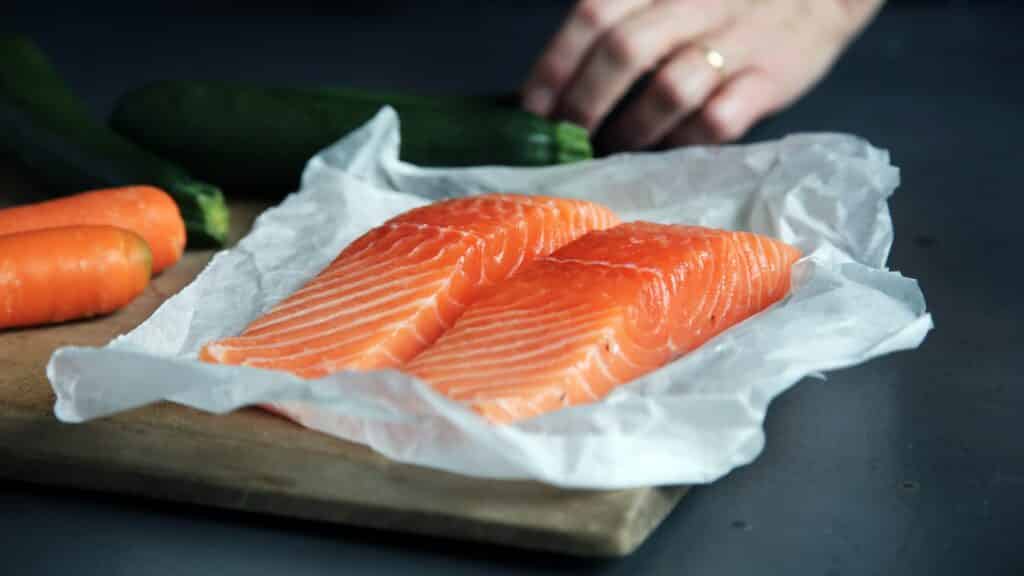 When you bake or grill salmon, it brings out a rich oakiness flavor to the fish. The best wine that complements this earthy flavor would be the Pinot Noir. The medium weight of both flavors has a subtle intensity that helps seal the deal. The salmon's richness is complemented well with the acidity of the Pinot Noir. We usually look for a good Pinot Noir from the Russian River Valley region of Sonoma when having Salmon. 
Lamb Chops
When restaurants make lamb chops, they often add a lot of seasonings and herbs such as salt, pepper, olive oil, garlic, rosemary, oregano, and much more. The best wine to accentuate these flavors would be the Cabernet Sauvignon, which goes fabulously with any juicy red meat. It helps complement the herbs that the chefs use to marinate the lamb. If you aren't feeling in the mood for Cabernet, a Merlot from one the mountain regions of Napa (Mount Veeder, Spring Mountain, Howell Mountain, Diamond Mountain or Atlas Peak) serve as a great substitute. When you taste your lamb chop and take a sip of red wine, your tastebuds will definitely thank you. This food and wine pairing will do wonders for a romantic candlelit dinner.
French fries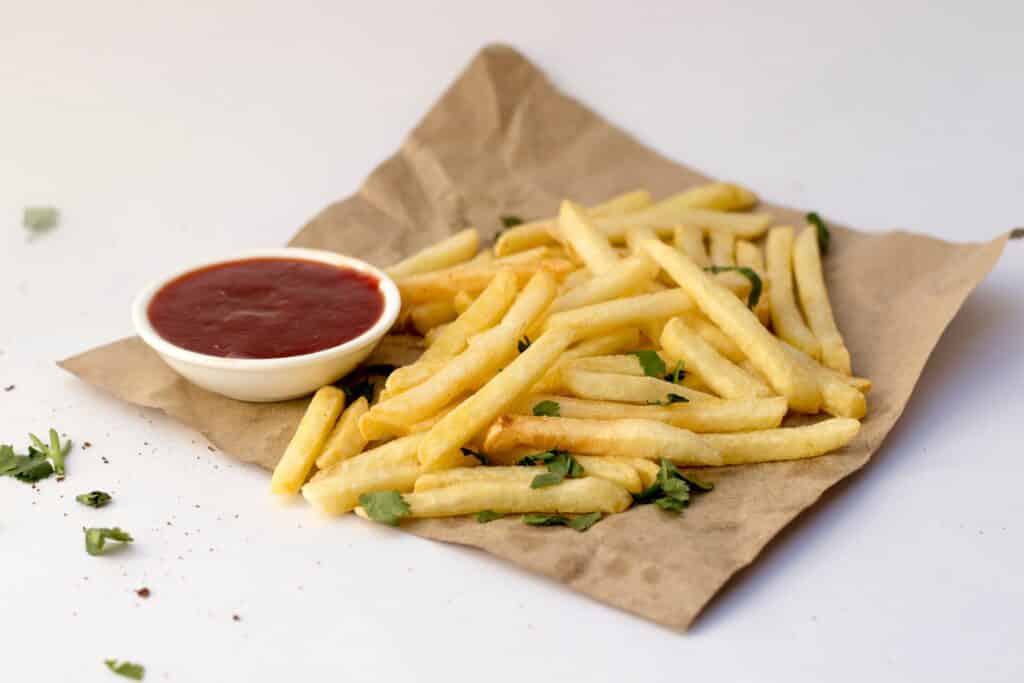 People often think french fries are just a snack or something that pairs well with soda, but it does wonders with wine as well. Sparkling wine, such as champagne, can cut through the salt on the fries to allow you to appreciate the flavors of both the french fries and the wine. If you don't like french fries, you can pair sparkling wine with potato chips or tater tots. If you want to get fancy, you can add some truffle oil to your fries and enjoy the unique pairing.
Pizza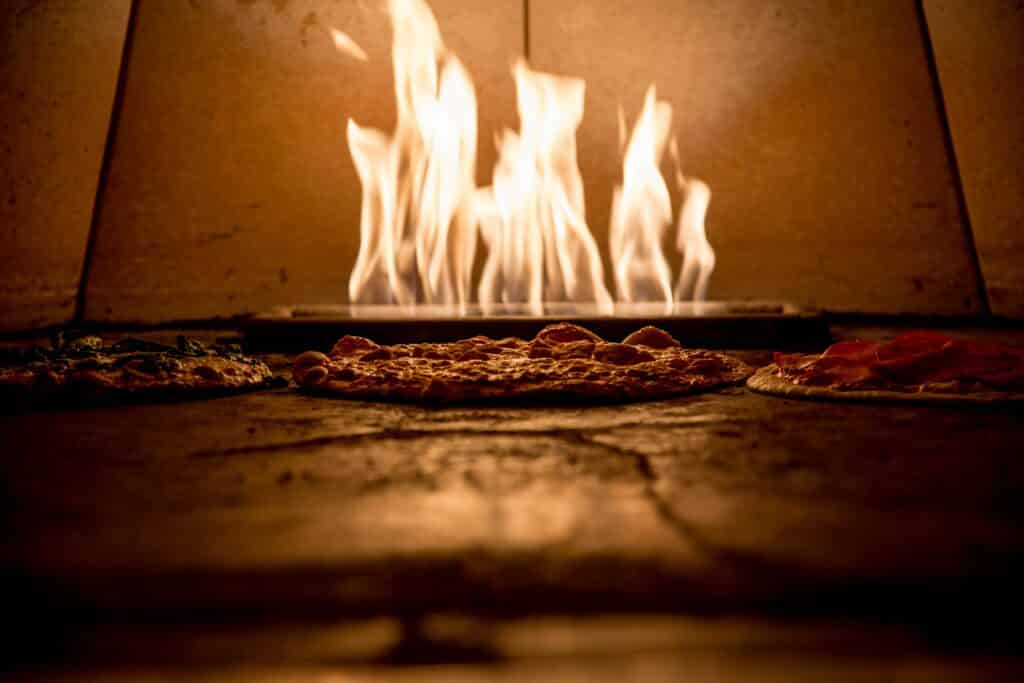 The best red wine for pizza would be an Italian red wine or Syrah. This is mainly because these wines have high acidity content, which enhances the acidic and sweet flavor of the tomato sauce. Syrah is a medium flavored wine that contains cloves and blackberries. It pairs nicely with the cheese from the pizza as well as other ingredients such as red pepper, spinach, and tomato.
Dark chocolate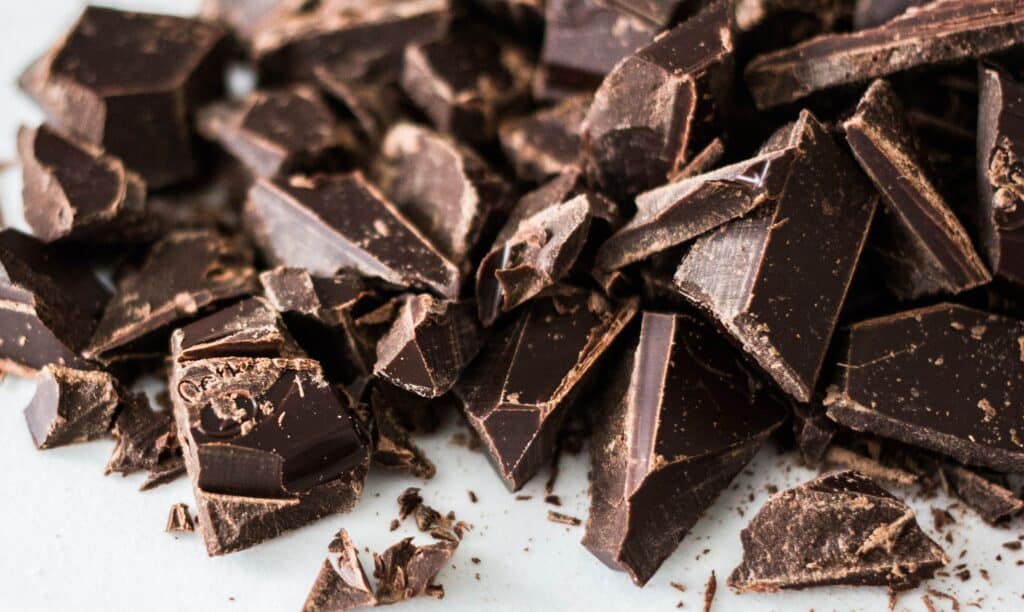 When it comes to pairing wine with dark chocolate, Cabernet Sauvignon comes to mind. Dark chocolate is packed with rich flavors and powerful ingredients, that means it will need to be paired with something strong and flavorful. Cabernet Sauvignon contains hints of cherries, berries, plums, and has an earthy aroma, which makes it an excellent pairing with dark chocolate.
Lobster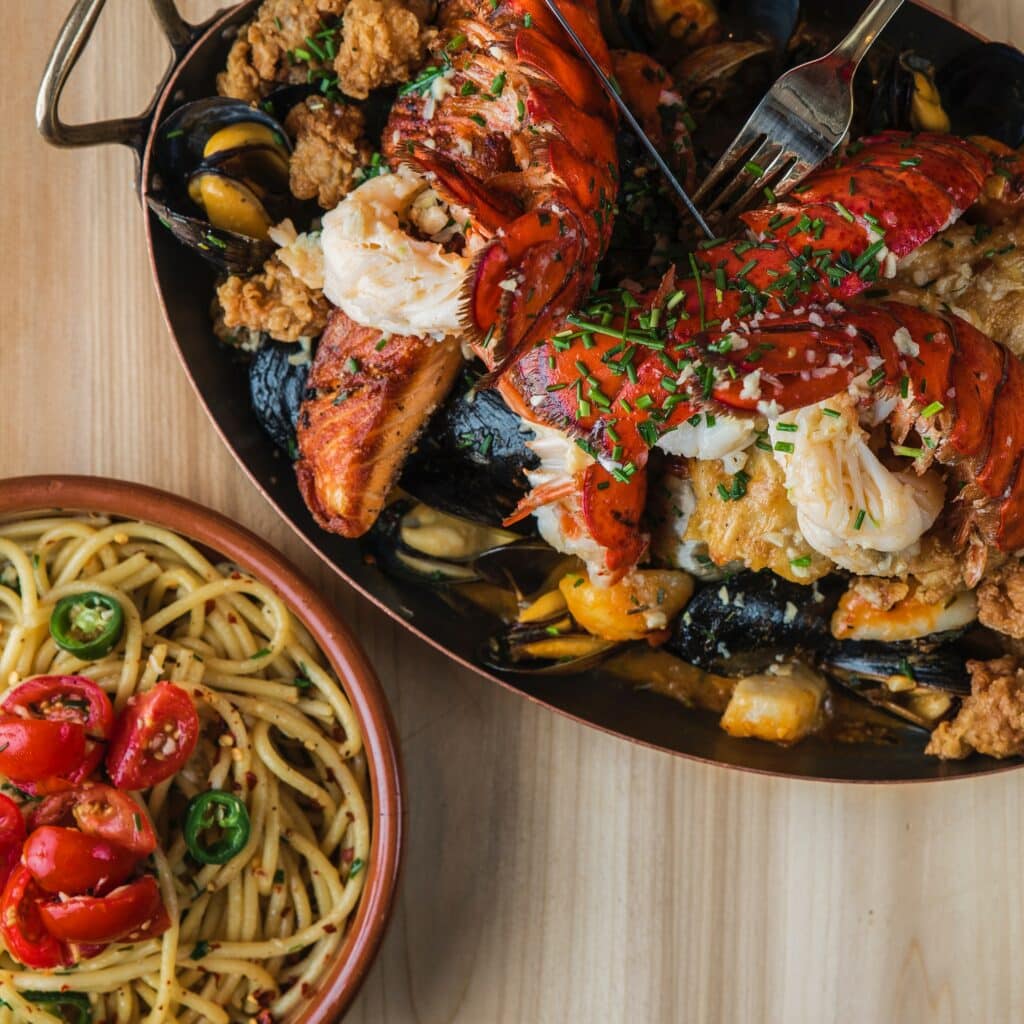 When it comes to lobster, you want to choose a wine with a citrus flavor and acidic texture to go with the lobster's buttery taste. A popular wine that comes to mind is the Pinot Grigio. It helps bring out the flavors from the grilled or boiled lobster.
Caviar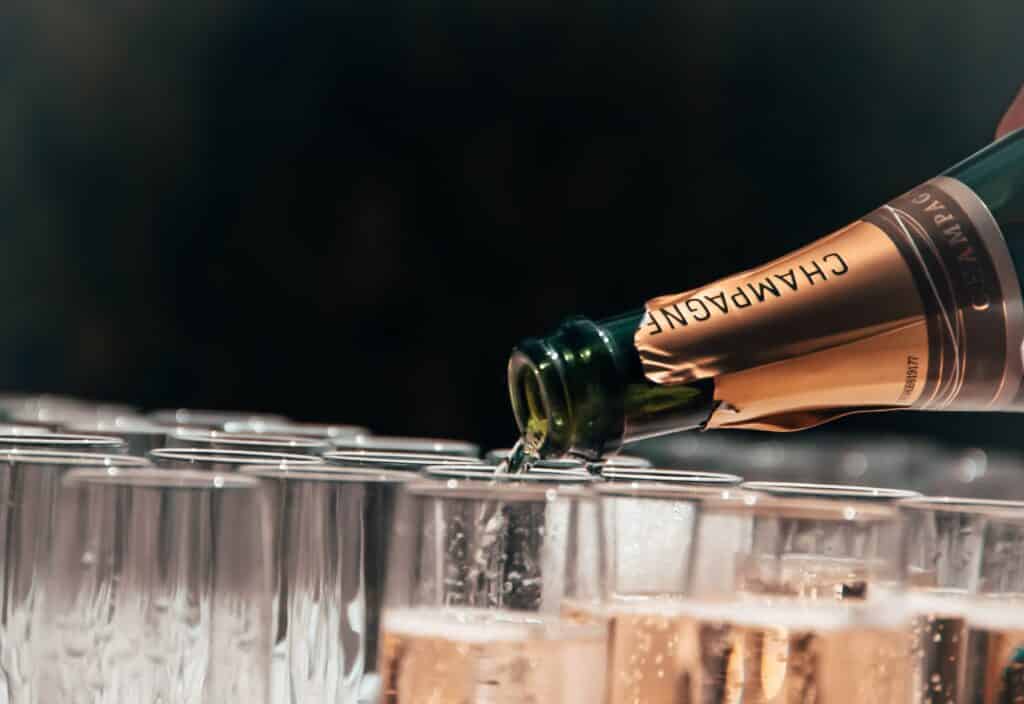 The best wine to pair with caviar would definitely be champagne or sparkling wine. The light texture and intensity from both the caviar and champagne help form a classy, flavorful experience. The fruitiness of the wine complements well with the salty flavor of the caviar.
Oysters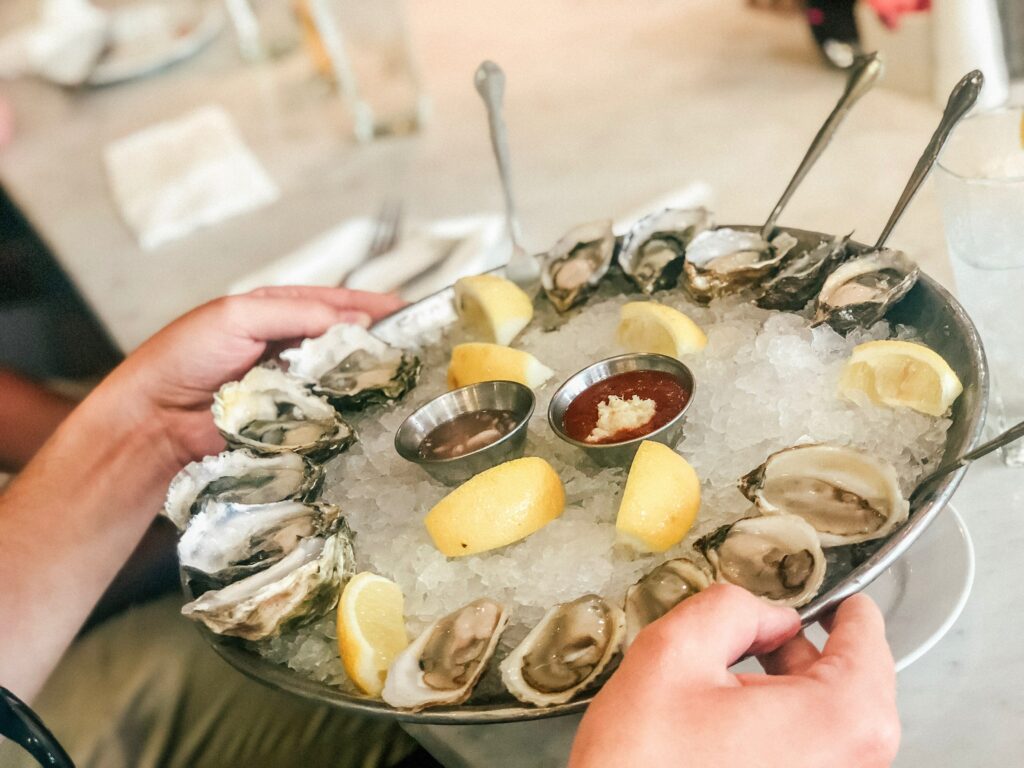 Muscadet wine is a match made in heaven with a dish filled with oysters. The light mineral and salty wine originate from the Atlantic coast of France, which matches very well with the oyster dish. Both the oysters and the Muscadet has a bright, open, and fresh flavor that is light and sensational to the palate. The alternation between the salty and acidic flavors create a gentle combination that blends perfectly together.
Goat cheese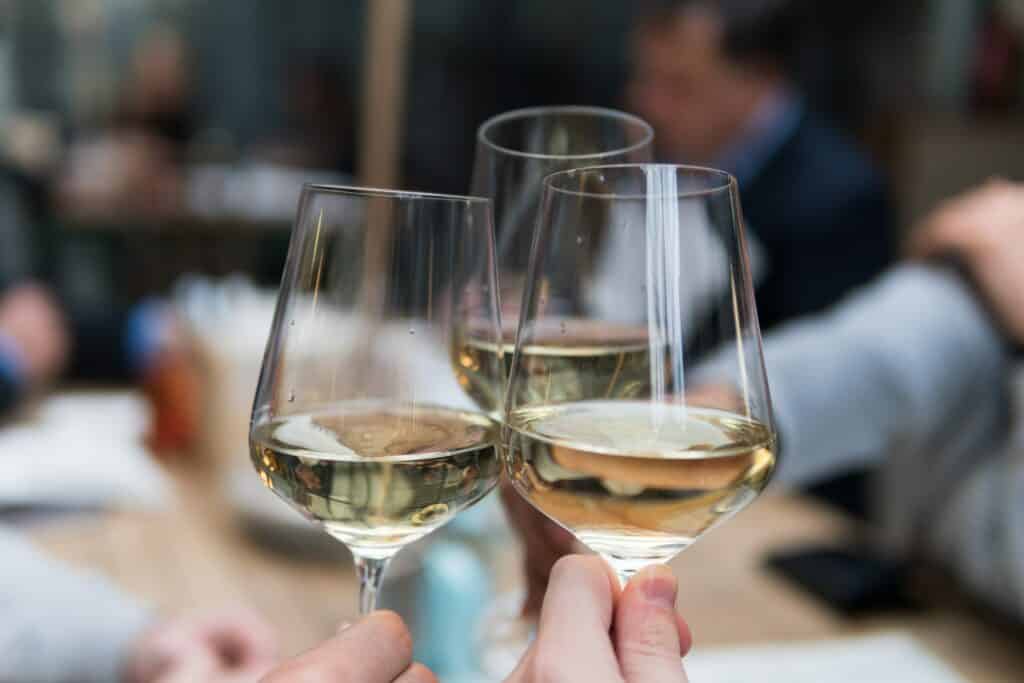 Some people like to eat goat cheese with crackers or to melt it into a fondue. However, goat cheese can taste wonderfully with the right pairing of wine. The perfect wine to pair with goat cheese would be the Sauvignon Blanc. The vibrant acidic and energetic flavor of the Sauvignon Blanc can seep through the flavor of the goat cheese. This combo takes into account the factors of texture, weight, and acidity as well as the contrast between the herbal and acidity of the wine with the creamy texture of the cheese.
Grilled chicken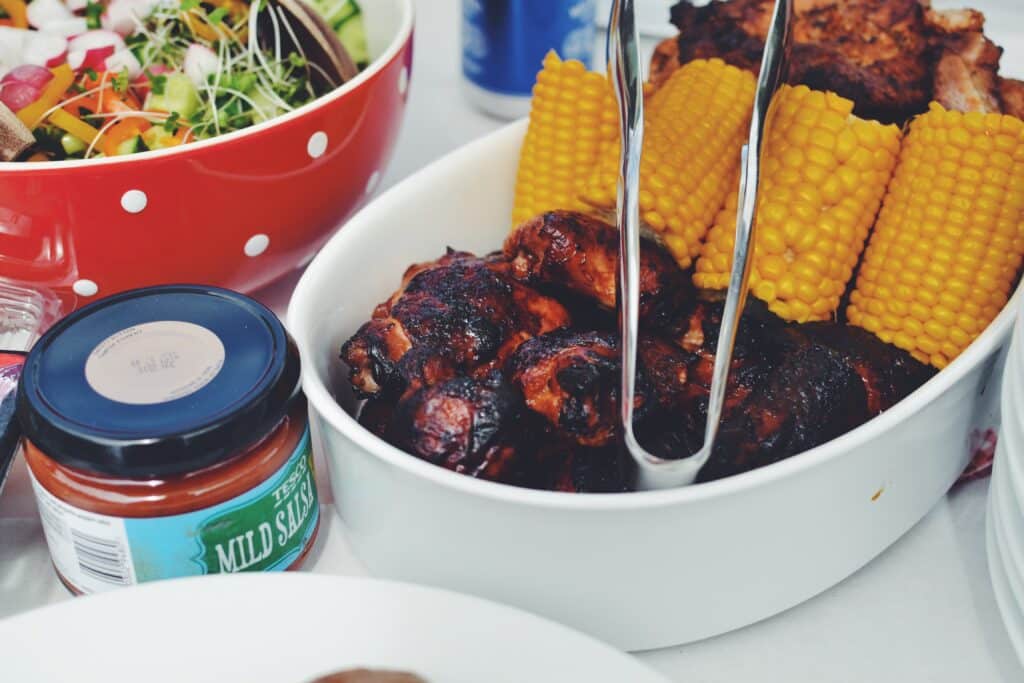 Grilled chicken is a wonderful dish to have during the summer. The chard and fatty skin taste wonderful with a chilled red wine such as Frappato. Frappato is a rich mineral wine that carries flavors from basil and fresh strawberries. It is served slightly chilled alongside a delicious chard chicken that tastes wonderful during an outdoor summer barbecue. If you aren't in the mood for a red wine with your chicken, a Chardonnay that isn't overly oaky tends to pair well with many chicken dishes. 
Mistakes People Make in Pairing Wine and Food
Since wine and food pairing is a very complicated task, it does make sense that mistakes happen. Here are the common mistakes that beginner wine enthusiasts often make:
Only Pairing White Wine With Fish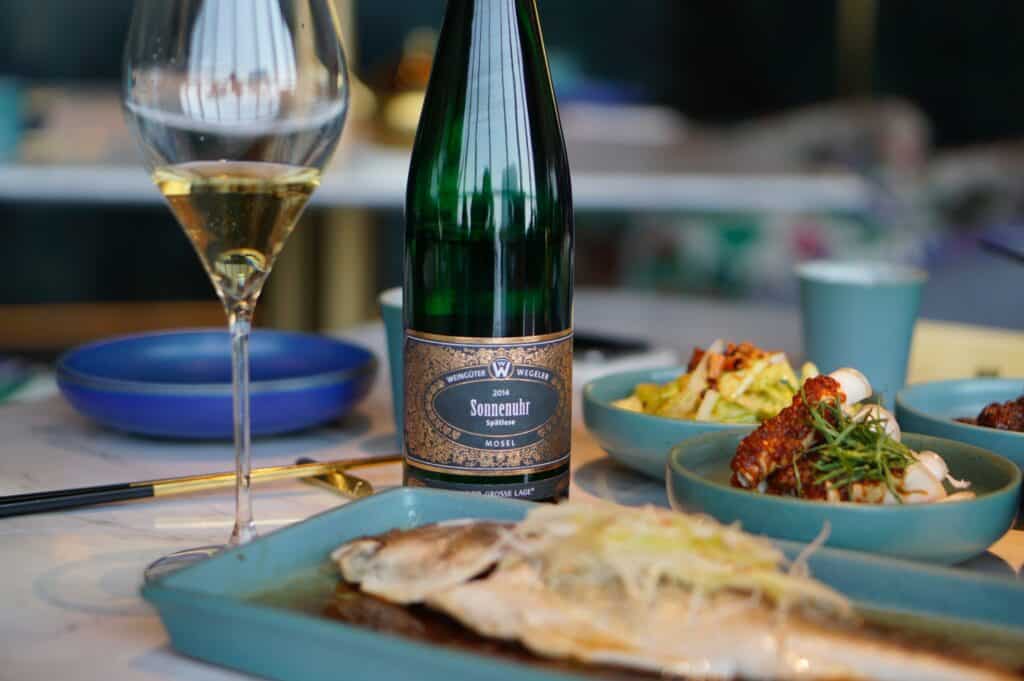 A lot of people often think that when you order fish, you must order white wine. However, it's not about the fish, but it depends on the sauce that the fish is served with. You can often do red wine if you have a flavorful, robust sauce filled with herbs. At the end of the day, it's best to take into account the fish, seasoning, and sauce before considering the perfect wine.
Champagne With Wedding Cakes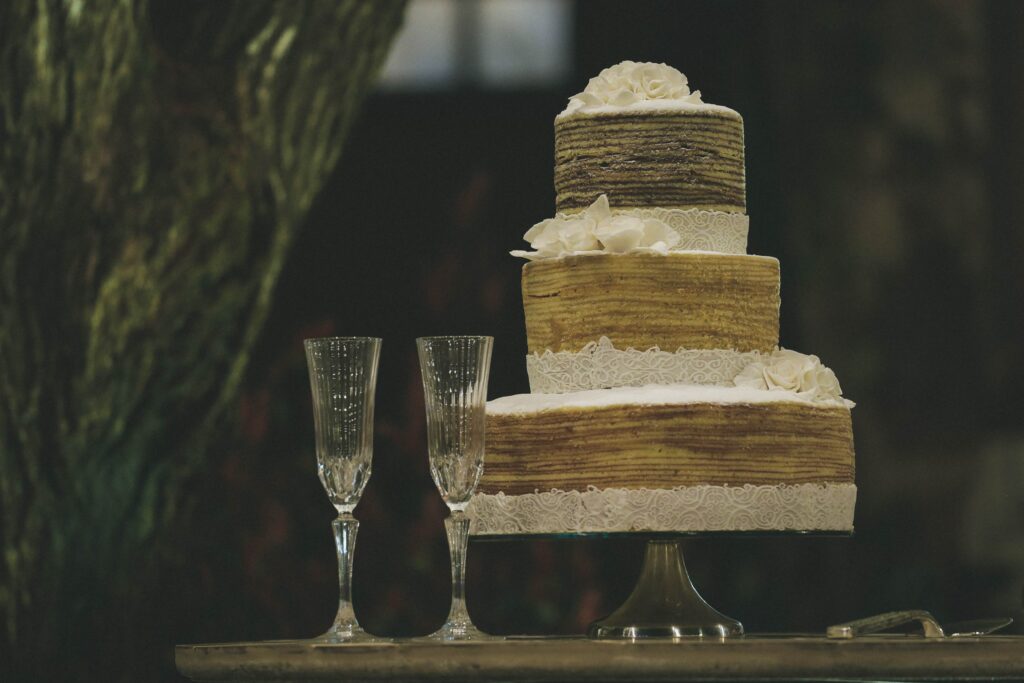 Summer is the best time for weddings and people often find that champagne goes very well with frosted cake. This is a huge misconception. Champagne and frosted cake do not pair well together because the tartness of the sparkling wine will clash with the sweet flavor of the cake. With this combination, the wine will taste even more acidic, and it will be as if you're drinking lemon juice. The best way to combat this is to serve an Italian Moscato with a wedding cake in order to bring in a happy marriage.
Red Wine With Cheese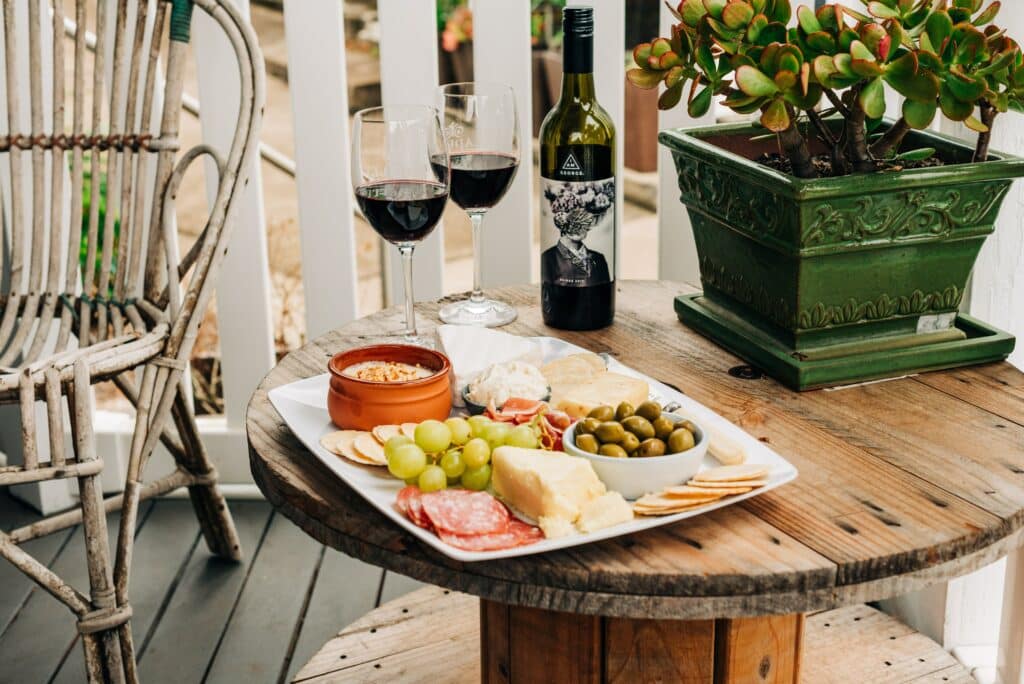 Another popular mistake is pairing cheese with red wine. There are only a few red wines that can balance out the tart flavor from the cheese. This type of pairing tastes even worse when your cheese is filled with herbs. The best combo with cheese would be Champagne or Sauvignon Blanc. After all, the richness from the milk in the cheese requires a creamy white wine to complement its texture. A Cabernet will only ruin the whole experience.
Ignoring Structure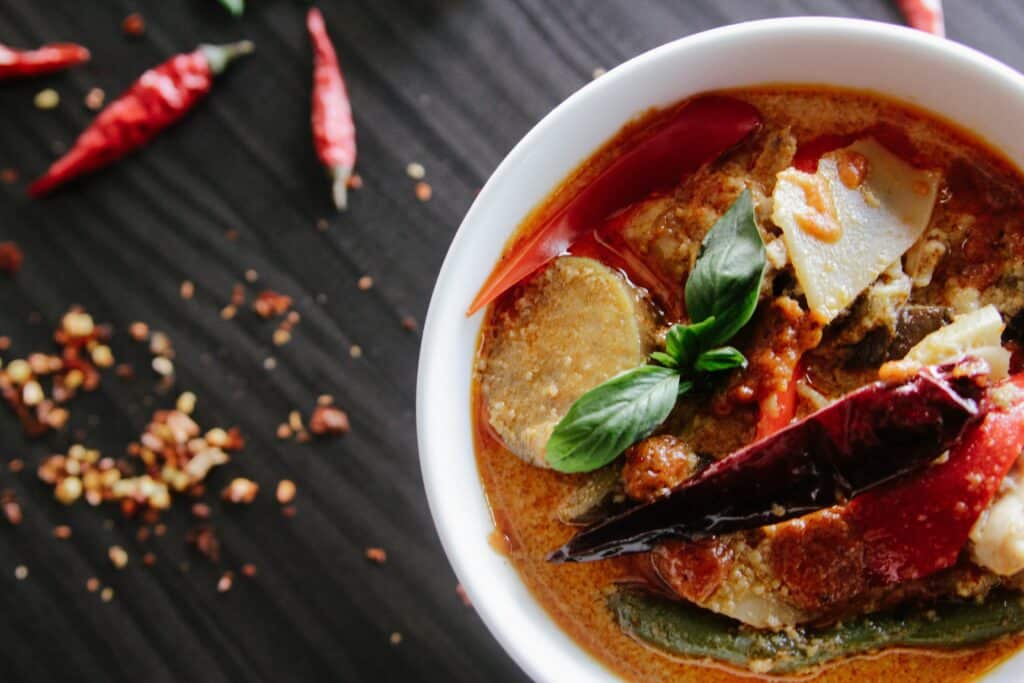 When it comes to wine and food pairing, you have to take into account the structure of both components. You need to consider the acidity, sweetness, fat levels, and texture of the dish. With the wine, you have to consider the alcohol components, acid, earthy flavor, and/or sweetness of the wine. For example, we have mentioned above that high alcohol content wine does not work well with spicy food. Just imagine combining a spicy dish with barbecue sauce with a high alcohol wine. The flavors may match, but the spice will cause the wine to taste like burnt liquor. The best pairing with a spicy dish would be a slightly sweet wine.
Believing in One Perfect Wine for a Dish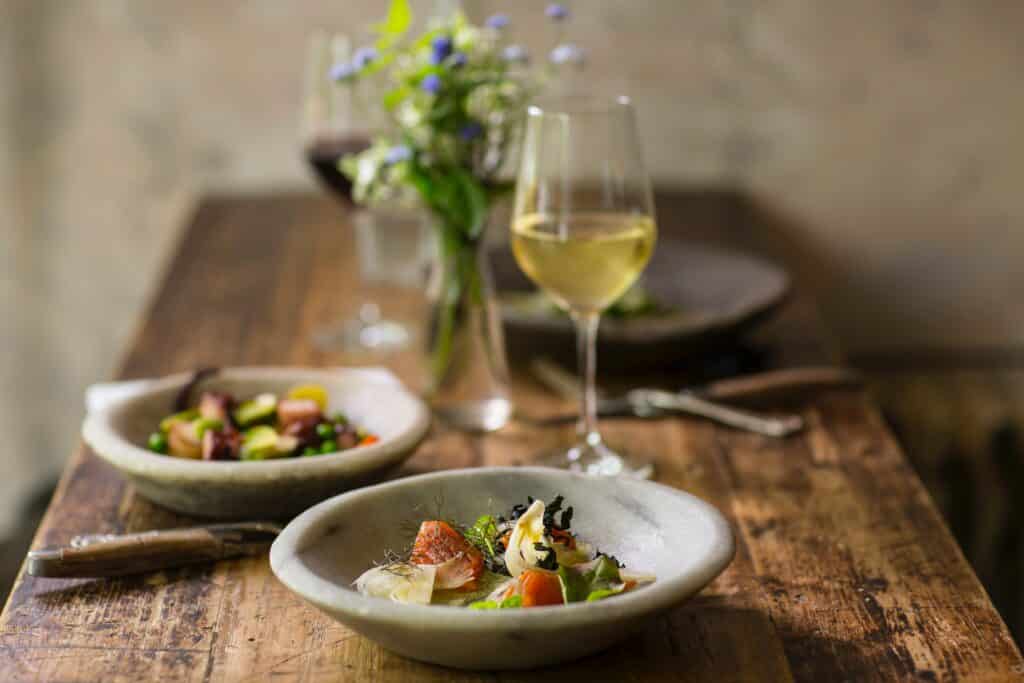 People have different palates and taste buds and would often have different preferences. Some would say that a Sauvignon Blanc is the best match with goat cheese, but if you are not a fan favorite of that wine or cheese, then you will need other options. The best way to match wine with food is to think like a chef. For example, if a fruit such as cherries goes very well with the duck dish, then wine that includes cherry ingredients like the Pinot Noir will work wonders.
If you have made one of these mistakes above, don't worry. Even the most experienced wine connoisseur makes mistakes sometimes. The idea is to learn, grow, and develop your culinary skills through experience and if all else fails, remember that it is perfectly acceptable to drink whatever you like with whatever you like to eat.
With all of this knowledge, you are well on your way to having some great food and wine dinners that are sure to impress your friends. 
Conclusion
With all of these wonderful food and wine pairing ideas, you will be able to create a luxurious and classy experience for your friends and family. Sometimes, it can be overwhelming to pick the proper wine for the right dish because there are so many to choose from, but with our recommendations, you will always be on top of your game. 
If you ever get confused, just remember the simple rules that we have listed above. You want to match the proper weight, texture, and flavor intensity between the wine and food. With the appropriate pairing, your friends, family, or date will be highly impressed with your culinary expertise. Don't forget to check out our intimate winery visits to learn even more. For something even more special on your next trip to Napa Valley or Sonoma, you can ask about our package that includes your full day of wine tasting followed by dinner and wine pairing by contacting us.