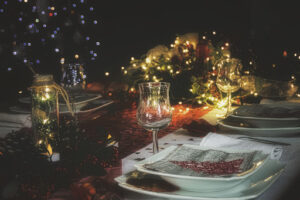 With the holiday season fast approaching, any celebration is incomplete without being around loved ones. Whether they're family or friends, the holiday season is what brings everyone together to celebrate and have a good time.
Apart from all the love and celebration, what else does the holiday season bring to the table? Lots and lots of food and wine to go with it. For Christmas dinner, there needs to be wine flowing to keep the night going. 
Wine pairings can be tricky to master. There's a lot of different dishes and a lot of options when it comes to wine so how do you choose? 
The key is to pair the right type of wine with the right type of food. Maneuvering through different dishes and through so many wine options isn't easy – it can often confuse anyone, even regular wine drinkers and rightfully so. 
Flavors are complex, both in food and in wine, which is why there are certain wines that work with certain dishes and some that simply don't fit in, regardless of how good they taste by themselves. To make Christmas dinner planning easier, here are some Christmas wine pairing ideas for your holiday dinner.
Wine Pairings With Appetizers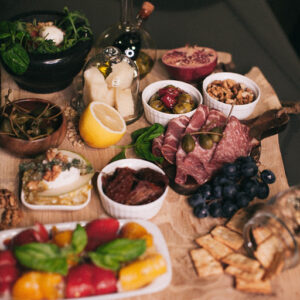 Appetizers are a great way to start the night on light and bubbly note. Dishes like "pigs in a blanket", "cheese platters", or a charcuterie board are great choices. 
Just like the dishes, think about starting the night with wines that are lighter in style. Recommended wine pairings for Christmas appetizers are Prosecco, Champagne, Chenin Blanc, Rosé, or Sauvignon Blanc. If you're in the mood for a red wine with your appetizers, Pinot Noir is always a great choice for a lighter style wine.
Not only are these wines light and fresh, but they also complement the mood and taste of the appetizers. If at all possible, try to avoid starting out the night out with strong wines if you are serving light appetizers.
A strong, bold wine can greatly overpower the appetizers. The lighter wine pairings are great way to kick off the night and get you ready for a fun Christmas dinner. 
Related: Cooking with Red Wine: Dos and Don'ts
Wine Pairings With Main Dishes
Whether you choose turkey, ham, duck or a prime rib as their main dish, it's important to choose the right kind of wine to go along with each option. All of these classic Christmas dishes have a distinct flavor, and each meat has a different flavor profile and a different way of cooking it, which adds to the complexity. The sauces and spices used to make all the difference when it comes to wine pairing. 
Here the color of wine doesn't matter, but the flavor profile does.
Whether you choose white or red wine, you still have to make sure you're choosing the right wine to be paired with the right meat. Each protein has a different texture, fat content, and structure.
The sauces and cooking method also greatly influence the wine pairing decision. Since this is the highlight of any Christmas dinner, the wine pairing must also live up to the occasion and suit the main meat dishes. 
Listed below are some favorite wine pairings for some of the most popular Christmas main dishes.
Wines For Turkey
For someone planning to cook a turkey for Christmas dinner, there's usually an assortment of sides and the sauces that go with the turkey. While picking the wine pairing for turkey, it's important to remember and take into consideration the flavors of sides and sauces.

For a turkey, a dry Riesling or Pinot Noir are great choices, but Zinfandel, Gewurtzraminer, and Chardonnay also work well with turkey. The natural and herby flavors of turkey along with the subtle flavor of the spice mix are best highlighted by these types of wine.
Wines For Ham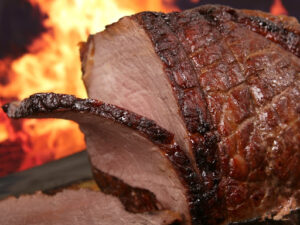 Just like any other wine pairing, the wine that is paired with ham should bring out the core flavor of ham. The palate appeal of a sweet wine with the classic honey-glazed ham is what Christmas dinners are all about. The balance of acidity and fruitiness of a Zinfandel or a German Riesling are great pairings for a ham dish. 
Not in the mood for a Zin or Riesling? Other wines that can work well with your Christmas ham are Moscoto, Grenache, Rosé, or Chenin Blanc. 
Wines For Duck
Duck is a delightful Christmas dinner food that is a rich fatty taste to it. There are many different preparations for duck which can, and should, affect which wine you choose to pair with the duck. 
If you are roasting the duck or serving it more plain without a lot of sauces and seasonings, Pinot Noir or a Barolo are great compliments to the duck. Are you thinking of more of a Chinese style preparation with hoisin sauce? Then reach for Merlot as your wine of choice.
Many people prefer braising their duck in a tomato based sauce. If this is you, a Tuscan red such as Chianti will pair well with the meal. Cooking duck in a red wine sauce is another favorite way to prepare duck. The smokey notes in Mourvèdre make it an excellent paired with red wine sauce duck. 
Maybe these red wines are not your style and your are wondering what white wines you might serve with duck. Off-dry German Riesling, Gewurztraminer, and Gruner Veltliner are excellent white wine choices with duck, especially if you are preparing your duck curry style or with duck confit. 
Wines For Prime Rib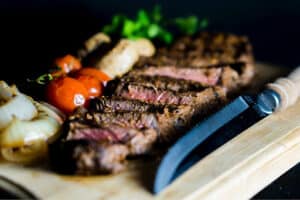 Prime Rib is an American classic Christmas dish where the big reds can really shine. The higher ratios of protein and fat require a bold pairing option. Christmas prime rib is best paired with a Cabernet Sauvignon that brings out the richness of the meat and yet manages to stand out by itself by cutting through the richness and providing an earthy taste. 
Other red wines that have high tannin and a bold flavor profile also work well with prime rib. Malbec, Merlot, Bordeaux blends, or Barbaresco are also great choices with prime rib. The key here is to choose a wine that has the complexity and boldness to hold its own, which is why most white wines don't work out well with prime rib.
Related: Vegan and Organic Wine: Everything You Should Know
Wine Pairings With Dessert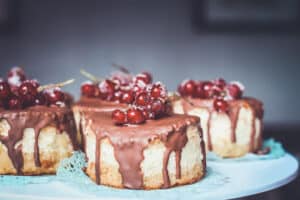 Let's get to what many consider their favorite part of Christmas dinner, the dessert! 
How does one pair wine with dessert? The rule of thumb is to always make sure that the wine is sweeter than the dessert, it doesn't matter what it is. Otherwise, after every sip, what is supposed to taste like sweet heaven, will taste extremely bitter.
If there is a fruity dessert, such as poached pear or an apple pie, an ice wine makes for a great accompaniment. The fruity overtones along with the controlled acidity is the right choice. When selecting wine pairings for dessert, a great idea is to follow a color scheme.
Common examples are port wine with chocolate cake or a Riesling and a cheesecake. Just make sure that the wine is sweeter or equally sweet as the dessert in question. Prosecco or champagne makes for a great option if there are light desserts such as fruit tarts or angel cake on the Christmas menu. 
A late harvest wine differs on its level of sweetness, if it is on the lower end, pair it with a tangy dessert, such as a lemon tart, and if it is on the higher sweetness scale, almost any dessert works. 
In Conclusion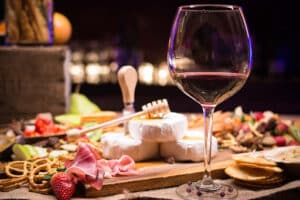 When all is said and done, pairing wine with each course boils down to one thing: keep it balanced. 
Wine is there to complement the dish and it shouldn't overpower nor get lost with the flavors of the dish that's being served which is why each course and different main course options have different wine pairings that are most suitable for them.
The same wines can be paired with multiple dishes throughout the evening if you are going for a particular theme. It all comes down to personal preference and willingness to experiment with tones and flavors. 
A Christmas dinner is the perfect occasion to show thoughtfulness and love through food and wine. Hopefully, by incorporating some of the tips discussed, you'll have a wonderful dinner with friends and family and a Merry Christmas!  
Give the gift of a private wine tour in Sonoma and Napa Valley this holiday season. Our family-friendly wine tours come with a custom itinerary, luxury accommodations, and fine dining options. It'll be a holiday gift you're sure to remember! Contact us today!
Related: 10 Great Food Pairings With Wine