A lot of people know that Napa Valley is famous for its wine, but the food scene in Napa Valley is just as exquisite with many top chefs having a restaurant or two in the valley.
There are so many wonderful options in Napa Valley depending on what type of cuisine you like and what your mood is that night. While we call this article the "10 Best Restaurants," think of this more as a list of some of our personal favorite restaurants as everyone defines "best" based on their own palate, budget, and experience types they prefer.
Mustards Grill
This eatery, loved by many in the area, is owned and operated by famed chef Cindy Pawlcyn. Mustards has been featured as a top 100 restaurant in America several times and has been a staple in Napa for over 30 years. Mustards Grill specializes in California-New American fare and is set in, what is often referred to as, a "Deluxe Truckstop" setting. They have a great wine list and the pork chop is absolutely fantastic!
7399 Saint Helena Hwy, Napa, CA 94558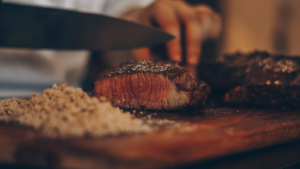 PRESS
When we are hungry for a beautiful prime beef dry-aged steak, we look no further than PRESS. The wood-grilled meats, chic digs, fireplace, and patio make this one of our favorite stops for steak in Napa Valley. Combine all that with an impeccable wine list and what's not to like? Sunday through Thursday, you can enjoy happy hour from 5-6:30 pm with a special happy hour menu. For a special appetizer treat, ask for the off-menu bacon sampler!
587 St. Helena Hwy, St. Helena, CA 94574

Morimoto Napa
Owned by Iron Chef Masharu Morimoto, Morimoto Napa is a Japanese Steakhouse set in a nice large space and offers high-end inventive Japanese fare. Morimoto has a great cocktail list as well as a nice wine menu. The food menu is quite extensive, but the sushi offerings are amazing as well as the tofu made fresh tableside. On our latest visit, we sampled the hamachi tartare, beef short rib, and several sashimi offerings. All the food was expertly prepared and delicious. One added benefit of Morimoto, their kitchen tends to stay open later so if you're looking for a later meal, this is the place!
610 Main St, Napa, CA 94559
The Charter Oak
Located in St. Helena, The Charter Oak offers up seasonal Californian fare and family style dinners are available. The Charter Oak features an open kitchen and has brick walls throughout the dining room. They feature an outdoor patio for those that like to dine outside. The grilled meats and locally farm-sourced vegetables are outstanding. The cocktail menu is extremely creative and happy hour from 3-6 pm every day of the week is never a bad thing! Their smoked beef short ribs are some of the best things we've ever eaten in Wine Country!
1050 Charter Oak Avet, St. Helena, CA 94574
Acacia House
Another fantastic spot in St. Helena is Acacia House by renowned chef Chris Cosentino. Acacia House is part of the Las Alcobas hotel. Acacia House serves up seasonally driven Californian offerings in a unique bistro typesetting. Acacia House has an extensive wine list and a wonderful cocktail menu. As the locals will tell you, the margaritas here are to die for! The veranda offers wonderful outdoor seating when the weather is good. On our most recent visit, we thoroughly enjoyed the sushi appetizer and the Sonoma lamb main course. The free valet parking is always a nice touch!
1915 Main St, St. Helena, CA 94574
Torc
Enjoy a fabulous dinner made up of farm-to-table dishes at Torc! The dining room has beautiful stone walls and an open kitchen. Owner and Chef Sean O'Toole loves to showcase the local farmers and creates ever changing seasonal dishes that are sure to delight every palate. Torc has won a Wine Spectator Award of Excellence three years running! On our latest visit, the beef duo and deviled eggs were simply amazing and they expertly decanted and cared for a special 23-year-old wine we brought in for a special occasion.
1140 Main St, Napa, CA 94559

Solbar
Enjoy the poolside setting and witness a variety of breathtaking sights at the Solbar. The rolling hills of the area are captivating and exhilarating, no wonder why it's a must-see place. The chef is known for his ability to take farm-fresh seasonal ingredients and turn them into unique and flavorful dishes.
Solbar has plenty of exquisite entrees to try, along with a modernized setting with features that energizes all senses of the body, which adds to the experience and makes Solbar a top destination. The staff are known for their red carpet service and are more than happy to find the perfect wine to pair with the cuisine and beautiful surroundings.
755 Silverado Trl, Calistoga, CA 94559
Oenotri
Oenotri features Southern Italian fare as well as an excellent wine list of some of the best that Italy and California have to offer. Like many industrial-chic restaurants, the walls in this elegant dining room are all exposed brick. The wood-fired pizzas are a must when visiting Oenotri as well as sampling some of their 20+ varieties of housemade salumi. Oenotri also has convenient brunch hours on the weekends as well.
1425 1st Street, Napa, CA 94559
Farmstead at Long Meadow Ranch
This renovated barn might seem like a strange and spacious setting, but the food they offer at Farmstead never ceases to impress. The key here, as with many places in Napa Valley, is farm-to-table, but in this case, they own the ranch, farm, and vineyard where the ingredients come from. The location also features some breathtaking scenery for guests to enjoy. For a quicker or lighter bite, there is also a café on-site for your convenience.
738 Main St, St Helena, CA 94559
The French Laundry
Chef Thomas Keller is renowned for his incredible skills and The French Laundry does not disappoint. The French Laundry is a 3-star Michelin rated restaurant that serves up an exquisite culinary experience and is rated, not only as one of the top restaurants in the United States but in the world. It is a price-fixed experience that includes a nine-course tasting menu and the wine list is one of the best around. Reservations book up well in advance so it is best to start your planning early if you want to enjoy a dining experience here.
6640 Washington St, Yountville, CA 94599

Satisfy Your Taste for Adventure
We've highlighted just a few of our favorite culinary destinations in Napa Valley. As much as Napa is a wine lover's paradise, it offers everything a foodie could ever want as well. When you're ready for your next trip to Napa Valley, talk to Wine Country Travel to get the best food and wine itineraries and tours that will be sure to satisfy your taste for adventure!