Salmon is one of the most delicious and easy to obtain fish on the market. 
The sound of the flesh sizzling on the grill, that smell of the roasting herbs, and that unforgettable taste keep us coming back for more. Add a nice glass of wine and you're really on to something.
However, what type of wine goes with salmon? You can really enhance your meal by picking the right wine. Come along with us as we discuss the best wine pairings for salmon.
Related: The Etiquette of Wine Tasting
Guide to Wine Pairing for Salmon
If you are wondering what wine to drink with salmon, this guide is for you. Even though we are going to give you some great pairing ideas, don't be afraid to experiment with wines you like and see how they work with your salmon dinner. 
Wine pairing for salmon and other fish isn't terribly complicated, and learning to do it will greatly enhance your meal.. 
Ready for a wine adventure? Check out Wine Country Travel  for more details
Safe Bets
There are some wines that just naturally lend themselves to a perfect pairing with salmon. If you are new to cooking salmon and/or pairing wines, you might want to go with one of the safe bets.  
1. Pinot Noir
Does red wine go with salmon? Many people think about seafood pairings and immediately go for crisp white wine.
Although this is often true, you shouldn't limit yourself to that basic "rule." Salmon is actually quite a meaty fish and can handle red wines, especially reds that are a little lighter in style. Pinot Noir is my favorite wine pairing when having salmon for dinner. A great Pinot Noir from the Russian River AVA in Sonoma County is a perfect choice to go with Salmon as well as Pinot Noir from Oregon.
Burgundy Wines
If you are looking for something French, Pinot Noir belongs to the Burgundy family of wine. They are grown in the region of the same name in Eastern France along the river Saone.
These are some of the most popular wines in the world. They are fantastic wines and will often pair with many salmon dishes. 
2. Chardonnay
Chardonnay is a classic Burgundy white wine. Who would've thought that this particular region would create wines that pair so well with salmon?
Salmon being a rich oily fish lends itself to a fantastic pairing with an oak-aged Chardonnay. Buttery oaked Chardonnay is a perfect pairing when preparing salmon that has a cream or butter-based sauce. 
3. Viognier
Viognier is a white wine that is usually a textural, aromatic wine with pronounced stonefruit flavors. On the nose, Viognier can be very herbal with notes of thyme, lavender and even some pine. These characteristics make Viognier a fantastic pairing for grilled salmon. 
Cooking Styles and Pairings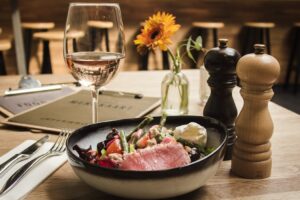 Oftentimes, the wine you pair with your salmon will depend on the way you cook it or the sauces you are using, 
There are a variety of ways to prepare your salmon. Here are a few of our favorite options and some pairing tips.
1. Sushi
Fresh quality salmon can be eaten raw. There are a number of ways to prepare raw salmon, including carpaccios and sashimi. 
You might want to avoid a powerful red wine to fully appreciate the delicate flavor of the raw fish. We recommend a "light" acidic white wine. 
Some favorite wine pairings with salmon sushi include: prosecco, Gewurztraminer, Riesling, and Sauvignon Blanc. 
2. On The Grill
As the weather gets nicer, who isn't thinking about going outside and throwing some meat on the grill? Salmon is perfect for the grill. Add some rice, veggies, and a bottle of wine, and you got yourself a beautiful meal.
Grilling, especially with charcoal or wood, gives the fish a smoky flavor.
Fantastic wine pairing when grilling salmon are Pinot Noir, Grenache and Viognier. 
Craving for a wine tasting event? Check out Wine Country Travel 
3. Citric and Fresh
There are few things that combine more perfectly than seafood with lemon or lime juice. It's almost as if they were made for each other.
There are many recipes for salmon that include plenty of citruses and fresh herbs. Additionally, salmon ceviche is absolutely delicious if you haven't tried any yet.
When doing a citric preparation for salmon, Sauvignon Blanc is the first wine that comes to mind, but unoaked Chardonnay or a dryer style Riesling will also work well. 
Wine Country Travel can take you to an unforgettable journey 
4. Cream Sauce
Grilled or pan seared salmon topped with a hollandaise or beurre blanc sauce is always a favorite and sure to impress. 
For this type of preparation, a quality oaked (but not too oaky) Chardonnay is a fantastic pairing. A Marsanne-Roussanne blend from the Rhone or a white Rioja are also great pairing ideas for salmon with a cream sauce 
Related: 10 Great Food Pairings With Wine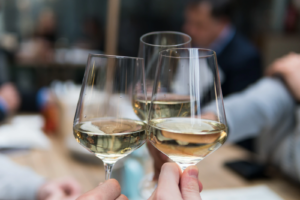 A Match Made in Heaven
As you can see, salmon is a very versatile fish when it comes to dinner preparations ideas. Along with the many preparation ideas, comes many great wine pairing matches. 
With a little practice and trial and error, you are sure to find a preparation style and wine pairing combination that will fit your palate. 
Cheers for being willing to try something new! Learn more about wine and our passion for viticulture.
Related: When Does Wine Expire? – Wine Country Travel