Have you ever thought about starting a wine collection, but weren't exactly sure what to do or what it might take to get into wine collecting? In this article, we will walk you through it and give you a guide of some of the key things to know and consider when starting your own wine collection.
Related: The Etiquette of Wine Tasting
Why Wine?
Are you finding the concept of collecting wine to be intoxicating? Let's look at several reasons you might consider collecting wine:
Reliable hobby

—People's love of wine won't be going away anytime soon!

Value

—The good news is once you invest in the right bottle, the value increases (most of the time) with age and proper storage. 

Fun

—Collecting and curating a fine wine collection is just plain enjoyable! 
Now that we've talked about some of the reasons to choose wine for your hobby collection, let's look at some tips you should keep in mind before starting your collection.
Tips to Keep in Mind When Starting Your Collection
 Key tips you should keep in mind before starting your wine collection include: 
Your budget

—Wine, especially collectable, age-worthy wine, is generally not cheap. Knowing your finances and what you have available to spend to add to your collection each year is extremely important. 

Conducting inventory

—Know which wines you have saved and which you decided to drink. At least once per year conduct an inventory of what you have in your collection. As your collection grows, think about using a sticker system. Use a sticker that can easily be removed from the bottle when needed and on that sticker keep track of what you paid for the bottle and when you hope to open the bottle (or sell the bottle). This keeps you from opening bottles that you intend to save and also gives you a reminder of the initial value of the bottle. 

Investing in a cellar unit

—Highly-valued, collectable, and age-worthy wines need to be stored in a safe, temperature-controlled environment..

Appraisals

—If you have bottles that you are keeping as an investment to possibly sell in the future, it's good to consider checking its value from time to time. You would hate to miss the peak time to sell that bottle. If you are just keeping wine to drink yourself, you may not need appraisals but you may consider getting a bottle authenticated, depending on how you acquired it. We were once given a bottle of 1990 Latour from someone that was really not all that into wine. We took it to a local fine wine shop to have them authenticate the bottle to be sure it was what it was. Believe it or not, just like art forgery, people do forge wine labels, especially on expensive, highly collectable wines.

Provenance

—If you are keeping wine in your collection to sell at a later date, make sure you keep detailed records of where the wine came from and how it was stored. When did you buy it and who did you buy it from? If you bought it from a wine shop, which one and how did they store the wine? Did someone give it to you? If so, where did they get it and how did they store it? How did you store the wine once you bought it? All this might seem like a lot, but no serious wine buyer will want to pay top dollar for a bottle of wine that might not have been taken care of properly and therefore turns into a bad bottle of wine. If you aren't able to provide answers to these critical questions, expect the value of the wine to decrease quite a bit.      
Now that you have these tips, let's look at some additional advice to keep in mind.
Wine Country Travel  can give you insights on the best wine tasting events
What to Look For
When you are selecting which wines you want to include in your collection there are a few main factors to keep in mind.
Amount of Production
Generally speaking, the more limited the production from a highly acclaimed producer, especially during a highly rated year, the more collectable that wine will become. This factor increases the value of certain wine bottles based on their rareness compounded with the vintage age. It's the age old law of supply and demand. When there are highly acclaimed vintages, I do my best to get as much from my favorite wineries as I can – some to drink over time and some to keep as an investment.  
Reputation
Reputation doesn't just apply to the winery, but can also apply to the winemaker. Those that have a history of producing highly rated wines and/or highly ageable wines can usually be counted on to continue doing so in the future and are usually a good buy when looking to add to your cellar. When you can find a winery that combines the qualities of low production and a great reputation, the wines can be so highly sought after that the winery is often called a "cult winery." These wines generally will cost you a pretty penny to get your hands on, but are almost certain to substantially increase in value over the time that you hold them in your cellar.  
Which Wines?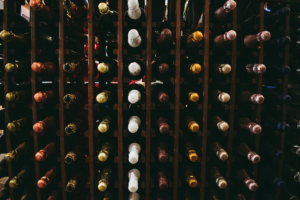 Experts generally agree that about 90% of all wine should be drunk within one year of purchase, 5-10% of wine can age 1-5 years, and only about 1% of all wine will improve with more than 5-10 years of aging. 
I usually try to have a mix of all three categories in my collection. I keep my everyday "Tuesday Night" bottles on hand, I have a selection of wines we want to give a little age, and then I have a selection of those age-worthy wines that I plan to lay down for 10+ years to either enjoy later or consider selling. 
I will give you an example of how my own personal cellar is laid out.
35% – Ready to drink reds – these would be reds that already have the age on them that I want or younger reds that I just plan to drink within the next year anyway.

15% – Whites – these are whites that I'm either putting a little age on or planning to drink in the next year. I am much more a red drinker than whites so I adjust my cellar accordingly. 

25% – reds that are more than a year, but not more than five years, away from drinking. 

25% – the age-worthy wines that I plan to age more than five, and in many cases, more than 10 years. 
Keep in mind, depending on the size of your budget and cellar, the frequency that you drink wine, your patience with aging wine, and your own palate and styles of wine you enjoy, you may want a different mix in your own collection. 
Related: Sparkling Wine vs. Champagne: What Are The Differences
Where to Buy for Your Wine Collection
The answer to this question usually depends on whether or not you like to age wine yourself. I love to age wine myself, so as much as possible, I try to buy current vintages from the wines and age them myself. If a winery releases some of their older vintage, called a library release, I might try to grab some that way as well. If you are looking for wine that already has some age, you can find some mature wines at retailers or you can try a wine auction. Here is a list of several places you can look for wine with some age:
Winebid.com

Zachys

Christie's

Hart Davis Hart

Acker Merrall & Condit

Heritage

K&L Wine Merchants

Decanter.com

wine-searcher.com
Before You Dive In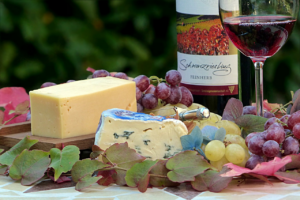 Now that you know where to look and how to start your wine collection, you can start building your own perfect collection! 
I find that it also helps to take regular trips to major wine regions like Sonoma and Napa valley to expand your selection and keep up with what the best wineries are doing.
Want to know more about wine collections or travel to Napa and Sonoma? Check out Wine Country Travel 
For more tips on getting started with your first collection, check out our article on tannins so you know exactly what to look for. 
Related: Cooking with Red Wine: Do's and Don'ts